We're three women who were in a panic.
Why? Because we were at the gym, on a date, on our period, on a trip, and suddenly needed a new pair of panties. Not the granny-panty-that-shows-through-even-the-thickest-of-jeans-type-underwear that you can find at your local drug store. We're talking comfortable, sexy, everyday undies. Which made us think… if convenience stores are supposed to be convenient why don't they carry underwear women actually WANT to wear?
So, we created Panic Panties. High-quality, affordable panties sold in convenient places. Grab them on the go at any of our local retailers, or stock up ahead of time and stash them in your purse, car, gym bag, luggage (and more!) for life's unpredictable moments.
SHOP NOW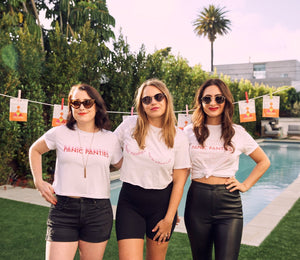 Arming every woman with a fresh pair of panties–whenever, wherever she needs them.
We have enough to worry about without having to chase after a decent pair of panties every time life strikes. Our mission is to make premium-quality, affordable panties accessible where & when women need them most.